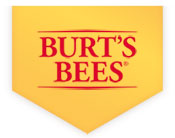 About the brand
The partnership of Roxanne Quimby and Burt Shavitz began in 1984. Roxanne and artists and Burt a beekeeper were the perfect partners, starting with the unused wax from Burt's beehive, Roxanne started to make candles. After selling their candles at a craft fair they soon moved on to a larger market shipping to NYC.
Burt's Bees lip balm was created in 1991 and became their bestseller.
In 1998 the Lemon Butter Cuticle Cream was brought out and started the expansion into personal care products.
After going global in 1999, Burt's Bees came out with a larger range of lip products in 2003, with lip shimmer and colour whilst containing the same nourishing lip care that the lip balm contains. Since then Burt's Bees has continued to grow as a company and has released a number of successful products. Burt's Bees now caters for a variety of different beauty needs – skincare, body care, lip care and hair care, there are even products to aid women through pregnancy!
Best Sellers

New In

Top Offers
Burt's Bees Highlights
The Summer Lip Guide
From bright mattes, to sheer glosses – #TeamGorgeous takes you through your guide to Summer Lips.
Fit for a Royal Baby
As a new parent, making sure you're picking the best for baby can feel like a minefield- we've done the hard work for you...